Gas field meeting by task force broke law, Scott claims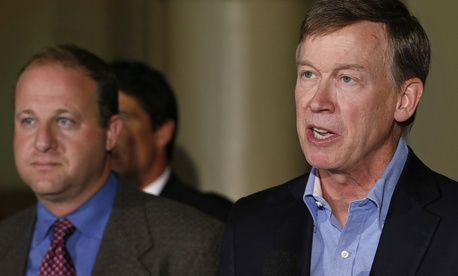 State Rep. Ray Scott says a recent tour of Garfield County oil and gas facilities by members of a new state task force violated Colorado's open meetings law.
Others are also questioning the state's handling of the tour, which Department of Natural Resource officials say was simply an educational event where no deliberations occurred, and that circumstances prevented general public attendance.
Members plan another such tour this week in Longmont.
Thursday's tour was taken by three members of the new 21-member task force that was created by Gov. John Hickenlooper under a deal that kept several oil and gas measures off this fall's ballot. The group is looking at making recommendations on how to strike balances between energy development and protection of residents, and between state versus local control over the industry.
Task force co-chairwoman Gwen Lachelt and members Sara Barwinski and Russ George on Thursday attended an open meeting in which they heard comments from an industry, citizen and Garfield County representative. They then undertook the tour of several industry sites, including ones near homes.
The Daily Sentinel sought and was granted permission to join the tour. But Scott, R-Grand Junction, questioned why the public at large was excluded.
"In my opinion it's clearly a violation," he said. "The statute's pretty clear. I don't see the wiggle room in the statute. They're not supposed to be doing that. It's supposed to be open to the public if they do it."
According to the state Office of Legislative Legal Services, Colorado's Sunshine Law "generally requires that any state or local governmental body that meets to discuss public business or to take formal action do so in meetings that are open to the public."
It includes in the definition of state bodies any "board, commission, or other advisory decision-making body of the state," and says the law applies any time two or more members of the body are conducting business. According to ground rules established for the task force, notice of its meetings is posted ahead of time on the DNR website and they are open to the public.
Lachelt referred questions on the matter to DNR. Asked about the handling of the tour before it occurred Thursday, DNR spokesman Todd Hartman issued a statement saying, "Due to safety requirements, logistical constraints and the plain fact that there are real-world limits to the number of people and vehicles we can bring to — and accommodate at — discreet, privately operated industrial locations in rural locations, we've had to limit to the tour itself to task force members, some associated staff and media. This is an educational event for members who choose to attend, not a formal task force meeting, and there will be no deliberations among the members who attend. Presentations provided before the tour are open to the public."
Leslie Robinson of the Grand Valley Citizens Alliance, who spoke to the task force during the meeting preceding the tour, said members of the alliance and the Battlement Concerned Citizens group "are concerned that task force members and DNR staff were given a several-hour private tour of local rigs/production sites, especially when we were limited to five minutes to express citizen views."
She's concerned that citizens didn't get the same access to task force members that industry did.
Steven Zansberg, a Denver attorney who represents the Colorado Press Association and specializes in media and public access to government information and proceedings, said that technically, even such information-gathering meetings should be open to the public.
DNR Executive Director Mike King said he's glad energy companies were willing to accommodate the one reporter who asked to accompany the tour. He said he expects that the department will probably see what kind of media interest there is in the Longmont tour and at least try to accommodate journalists who can report back to the community on what they saw.
But he pointed to the challenges of opening up tours by energy operators more broadly to the public.
"If we say, gee, operator, we're going to need you to accommodate 100 people, they're going to say no, we're not going to give you this tour," he said.
The media enjoy no special standing compared to the public in general in terms of access to meetings, and it's not enough to have reporters stand in as surrogates for the public at large, Zansberg said.
At the same time, Zansberg acknowledged the "real-world constraints" that sometimes can exist in complying with the law. He said some approaches to such tours could include at least allowing some public representatives to attend on behalf of various interests, splitting task force members among subgroups that visit sites one at a time so there's room for others to attend, or at least recording the tours so the public can find out everything that was, or wasn't, discussed.
Scott believes the issue is black-and-white, and notes that the state Legislature must comply with the open meetings law.
"We're held to a pretty high standard here, but apparently the governor's office doesn't think that applies," he said.
But King said lawmakers commonly have private, one-on-one conversations with their peers about public business, and added, "Legislators go on tours all the time that the public isn't invited to."
Zansberg doesn't believe members of a public body need to hold discussions or deliberations themselves for the open-meeting requirement to kick in. He noted that meetings where only public comment is being submitted are open. He also said that just hearing what members of a public body are asking during a tour could be enlightening for the public, just as courtroom observers ascribe importance to what a judge is asking during oral arguments in a case.
By Dennis Webb, GJ Daily Sentinel
reposted by Reagangirl.com